McHenry Dry Needling Near You
Dry needling is a technique trained physical therapists use for the treatment of pain and movement impairments. The technique uses a "dry" needle, one without medication or injection, inserted through the skin into specific areas of the muscle. Other terms commonly used to describe dry needling include trigger point dry needling, functional dry needling, and intramuscular manual therapy. Our McHenry physical therapy clinic and physical therapists are trained to help patients with McHenry dry needling.
Dry needling involves a thin filiform needle that penetrates the skin and stimulates underlying myofascial trigger points and muscular and connective tissues. The needles are typically smaller than hypodermic needles and are solid rather than hollow with a more rounded tip. The needle allows a physical therapist to target tissues that are not manually palpable.
---
Table of Contents
Why use dry needling?
What is the difference between dry needling and accupuncture?
Is it painful?
What can be treated?
What are the benefits?
How much does dry needling cost?
Who shouldn't use dry needling?
Contact Us
---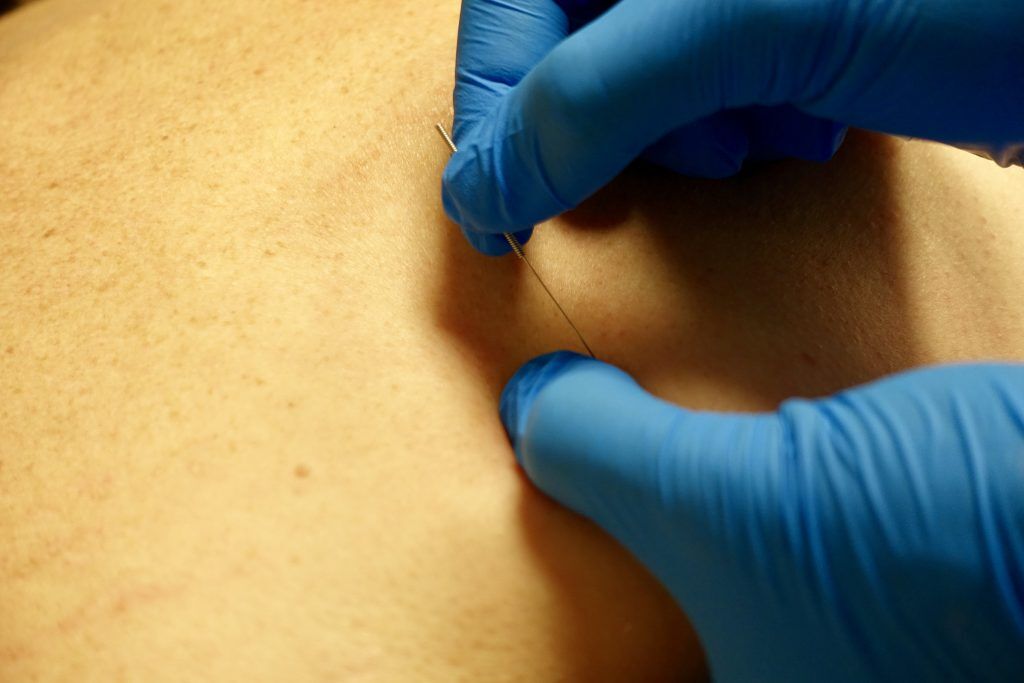 Why use Dry Needling?
Our McHenry physical therapists use dry needling, along with other manual therapy techniques, with the goal of releasing or inactivating trigger points, a taut band of skeletal muscle located within a larger muscle group, to relieve pain or improve range of motion. In physical therapy, trigger points are hyperirritable spots within a taut band of contractured skeletal muscle fibers that produce local and/or referred pain when stimulated. There are two types of trigger points, latent and active. A latent trigger point is a taut band of skeletal muscle that is only painful upon compression, but does not usually cause pain otherwise. While an active trigger point is a taut band of skeletal muscle that is spontaneously painful. Active trigger points can have referred tenderness, motor dysfunction and an autonomic response. These are what patients usually refer to when they say they have a "trigger spot."
Trigger points often cause altered muscle activation patterns, thus causing a dysfunctional movement pattern, usually leading to a more painful movement pattern. Preliminary research supports that McHenry dry needling improves pain control, reduces muscle tension, and normalizes dysfunctions of the motor end plates, the sites at which nerve impulses are transmitted to muscles. This can help speed up the patient's return to active rehabilitation.
McHenry County Dry Needling Near You
Red Rock Physical Therapy is one of a select few physical therapy clinics in McHenry County who has the ability to perform dry needling on patients. Contact us to see if our McHenry dry needling is the right form of treatment for you.
Our own, Dr. Emily Rotert, has completed certification in McHenry functional dry needling, which she has found works well with her other manual therapy skills. Emily works hard to tailor each appointment to the patient's needs, whether you are a competitive athlete, a weekend warrior or never exercised a day in your life, Emily will construct a program just for you, to get you back to where you want to be, doing what you love.
What is the Difference Between Dry Needling and Acupuncture?
Both dry needling and acupuncture involve the insertion of thin needles into certain parts of the body, but the similarities stop there. Dry needling is not acupuncture, a practice based on traditional Chinese medicine and performed by acupuncturists. Dry needling is a part of modern Western medicine principles, and supported by research. The primary difference between acupuncture and dry needling is that acupuncture treats for the purpose of altering the flow of Qi (or energy) along traditional Chinese meridians while dry needling follows evidence-based guidelines, recommended "point" locations, and dosages for the treatment of specific conditions.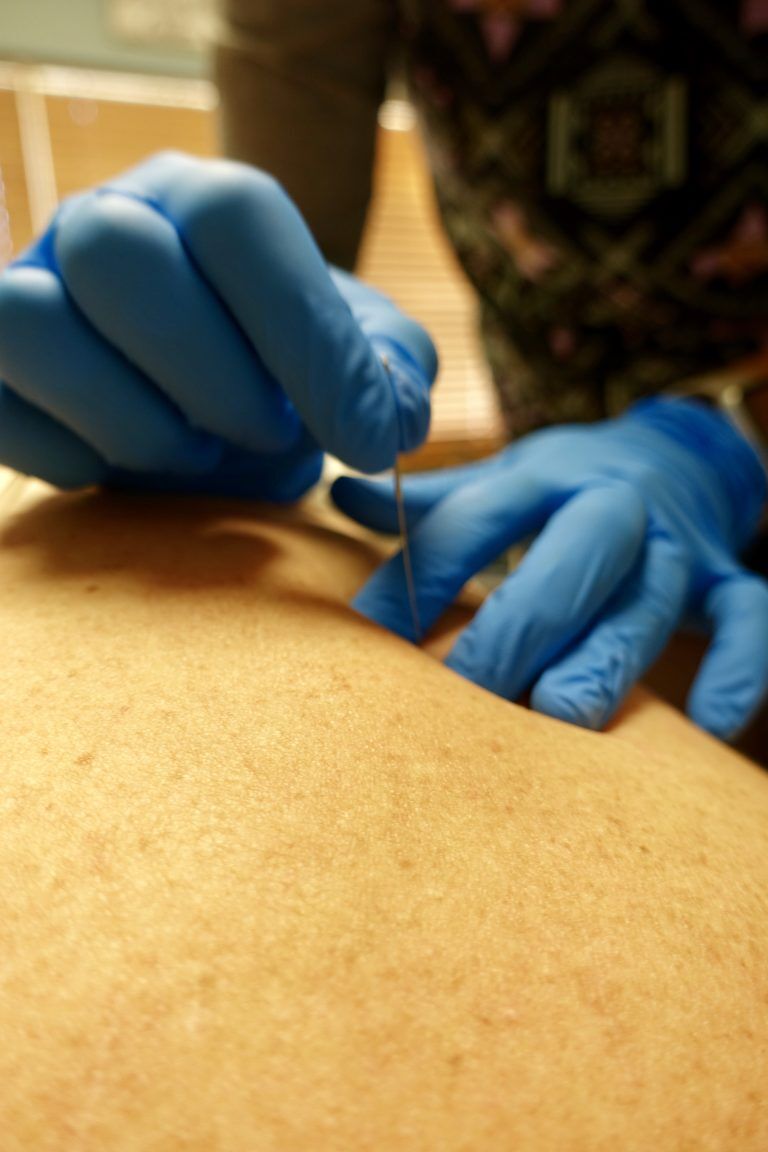 Is Dry Needling Painful?
With McHenry dry needling, it is often more comfortable than traditional trigger point therapy (both for the patient and for the therapist) and has been shown to have longer lasting effects. Most people do not feel the insertion of the dry needle into the skin, but once the needle penetrates the muscle, the patient may feel some "aching" or "cramping". Muscle soreness can be present for 24-48 hours afterwards and can be treated with ice or heat for comfort.
What conditions can be treated with McHenry Dry Needling?
Dry needling in McHenry is used to treat dysfunctions in skeletal muscle, fascia, and connective tissue, and diminish persistent peripheral nociceptive input, and reduce or restore impairments of body structure and function leading to improved activity and participation. (2) In particular, McHenry functional dry needling looks at improving function and creating proper movement patterns so that there is reduced pain with a particular movement. McHenry dry needling can be used in a number of conditions including but not limited to:
Neck and Shoulder pain
Disk and Nerve problems
TMJ
Migraines/Headaches
Rotator cuff
Epicondylitis (Tennis Elbow)
Upper back and shoulder pain
Low back and hip pain
Herniated or bulging disk
Hip bursitis
Pelvic pain
Sciatica
Scoliosis
Running injuries
Achilles Tendinitis
Shin splints
Plantar Fasciitis (foot pain)
IT band syndrome
What are the benefits of Dry Needling Near Me?
The physiological basis for dry needling depends on the targeted tissue and the specific treatment objectives for each patient.
Increase Blood Flow
Decrease Muscle Banding
Restore normal length-tension relationship in muscle
Decrease Spontaneous Electrical Activity
Biochemical Changes
Central Nervous System Changes
How Much Does McHenry Dry Needling Cost?
When it comes to the cost of McHenry dry needling, our office typically charges per session. The cost will vary depending on the length of the session and whether you have insurance or not. A session will typically include the dry needling procedure, and any additional therapeutic treatments such as exercises, manual therapy, or other pain relieving treatments.
You may be wondering, "How much does McHenry dry needling cost?" Our McHenry dry needling therapy treatment is about $50 per session.
Who should not use Dry Needling?
Pregnant women
People who are not able to understand the treatment
People who are very afraid of needles
Contact an Experienced McHenry Dry Needling Therapist Near You
If you are looking for a highly rated McHenry dry needling therapist near you, contact our office at 815-451-4502 to speak with one of our local physical therapists. Fill out the contact form or give us a call at 815-451-4502 to see how we can help you live pain free!
McHenry Dry Needling Patient Review
Red Rock Physical Therapy is a gem tucked away in McHenry. The staff is knowledgeable and friendly. They are willing to work with your schedule to get you in to receive care. They are concerned with your well being and safety. I recommend them to anyone needing physical therapy.

Shawn Smosna
Rating: 5/5 ⭐⭐⭐⭐⭐
Shawn Smosna, April 4, 2020
Read more of our client reviews on our Google profile!
---
Highly Rated McHenry Personal Injury Lawyers
Donahue & Walsh, P.C.
4310 W Crystal Lake Rd #C-D
McHenry, IL 60050
Botto Gilbert Lancaster, PC
970 McHenry Ave
Crystal Lake, IL 60014
Taradash, Johnson, Janezic Injury Lawyers
908 S Illinois Route 31
McHenry, IL 60050
The Law Office of Scott W. Brammer
5447 Bull Valley Rd.
McHenry, IL 60050
We have no affiliation with these companies. They happen to be highly rated on Yelp and/or Google.